Meet Bobby Tumbles. He is a stray male cat (no microchip or collar) that was hit by a car on g January 3, 2017. A good Samaritan saw this "orange mass" on the side of the very busy 234 during rush hour, and was about to drive by, when she noticed it was moving. It was dark and raining pretty hard, but as soon as she realized it was a cat, she immediately pulled over, scooped him up and rushed him to Battlefield Animal Clinic.
He was completely drenched, bleeding from his nose and mouth, and not using his hind legs. They did their initial triage, took radiographs, and amazingly found no signs of serious injuries. We decided to give him a fighting chance, and kept him at BAC to see if time is all he needs to make a full recovery. After steroids, laser therapy treatments, and physical therapy, Bobby made an impressive recovery.
He has since been adopted by one of our clients that fell in love with him after following his story on Facebook.
Lexy was a 4 year old Boxer presented with distended (very bloated looking) abdomen, lethargy, and was very emaciated.Her owner was not able to afford much, but brought her in to see if we could help. After radiographs and bloodwork, Lexy was suspected to have a ruptured spleen.
An emergency splenectomy was her best option. Rally for the Roses stepped in to offer the owner help to try and save Lexy.
Unfortunately, when surgery began the extent of Lexy's condition was discovered. Her abdomen was riddled with cancer. The decision was made to have her humanely euthanized.
Angel is a sweet 9 year old pit bull with a history of mammary tumors. She had them removed successfully when she was spayed in 2014. Unfortunately, she developed another mammary tumor and she would need surgery to remove it. The owners were worried that financially they would not be able to pay for the whole cost of the surgery, which turned out to be a double mastectomy (Dr. Marron and the Owners wanted to take an aggressive approach). Thanks to contributions from Rally for the Roses were able to help Angel get the surgery she needed!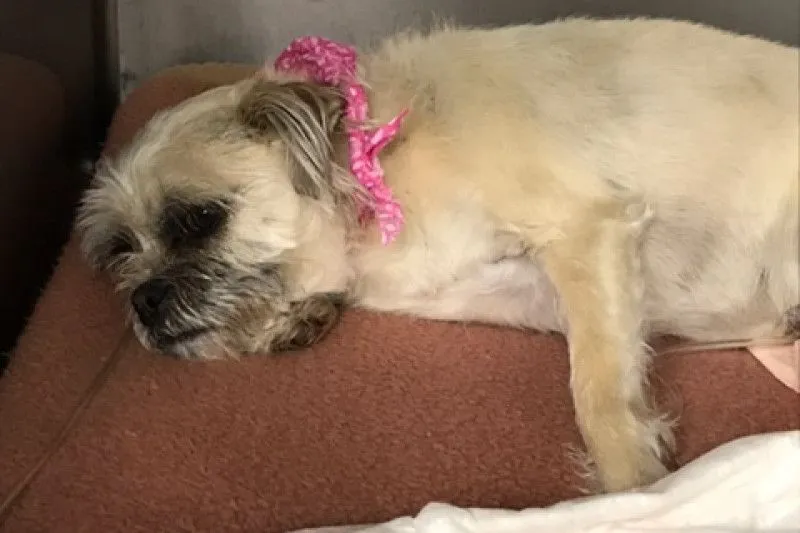 A good samaritan brought Rosie (They had named her Ruthie! How funny!) into Battlefield Animal Clinic as a stray that was hit by a car (no microchip or collar). She was sweet and recently groomed so we posted her story on Facebook in hopes that a family would be found. She was in very rough shape with a diaphragmatic hernia, inguinal hernia, and a broken pelvis. We immediately set out to try to find her owners via social media, contacting local shelters and emergency animal hospitals.
After a few days with no owner found and with the severity of her injuries, we decided humane euthanasia would be the best and most humane option. But with her sweet eyes and a waggy tail, Dr. Marron decided she had more life left to live. We fell in love with her, and she won Dr. Marron's heart. BAC was able to give her the surgery needed to repair her hernias. Her story was shared by hundreds of people on Facebook and was viewed by almost 8,000 people, to try to find her owners. After 5 days of her family was finally found!! We almost had a very different story to report to them.
Rosie has a long road to recovery but with the support of many generous strangers and her loving family, she is now on her way.